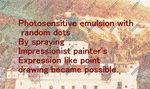 Modern pictures are completed with digital data on the computer.
Classical technique photography consists of an amalog camera, film, and finally on paper

Thus, the effect is determined, and in digital it is an impossible finish.

#-O-15 https://youtu.be/KEdz1PvNiPE
For my printing technique
The material of silk printing is being used for
my printing technique. Material is waterproof paper,
a sensitization agent, acetic acid vinyl, Y.M.C.K. pigments,
etc. With an ultraviolet ray exposure machine,
about eight sheets are exposed using a long-tone
or short tone film etc. from one sheet,
and development processing is carried out only with water.
#DotVegaPigment
the organic pigments for sensitization color PIGUMENT (handmade).
printing for all color monochrome 35mm film
Acer Chromebook C738T-H14N/E(Chrome OS/英語キーボード/Celeron N3060/4GB/32GB eMMC/11.6/タッチ対応/コンバーチブル/ブラック/1年保証)